What Do You Need To Know About Milling Your Own Flour?
Where Do You Even Begin? What Do You Need To Know About Milling Your Own Flour? Great questions! I am here to help! The journey of learning how to mill your own flour is just that, a journey. Milling your own flour is not something you can just Master over night, even if you have been baking for many many years. There is a learning curve, but once you understand it, you will feel so enriched with knowledge and experience in a skill many people have no idea about. Somewhere is history, we lost the skill of milling our own wheat. Well, it's time to bring it back! I'm bringing milling back, yeah!
Here is my Stone mill, and my every day Grain Storage Bins.
I am ready to get milling!
History Of Milling Flour – In The U.S. (Short Version)
Way, way back when, our ancestors used to mill all their own flour. Of course, that looked much differently back then, then it does today. Today we have the luxury of electric mills, in the past, it was all manual labor. So, you can imagine, this was a time consuming job. A lot of families would take their wheat to the local mill to have their flour milled. So, you can see why most communities where built around the local mills.
An Old Mill, Mills look very different these days, don't they?
We have come a long way!
Why Did We Stop Milling Our Own Flour?
Whole Flour ground from wheat berries did not stay fresh as long as our commercial white flours these days do. Well, there is a good reason for that! Fresh milled flour retains all three components of the wheat berry. The Bran, the germ, and the endosperm. Read more about that HERE. So, because all three parts are present in fresh milled flour, fresh milled flour spoils much quicker. So, to keep flour from spoiling, commercial operations started to sift out the bran and the germ (The healthy parts of wheat). To sum up, only the endosperm remained, which made the flour last so much longer. Bringing more profits and less waste. There is so much more to this, and if you are interested in learning a TON more about this, you can check out Sue Becker's Bread of Life Video, which you can find HERE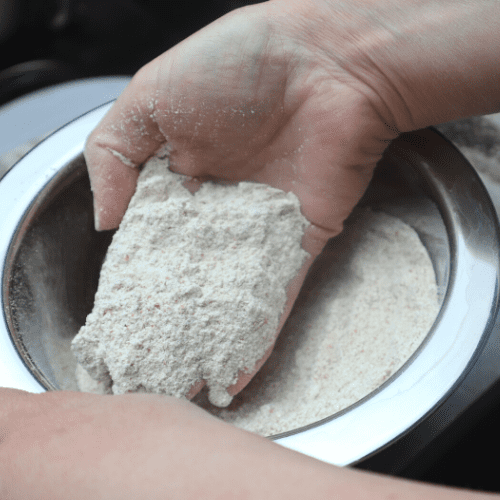 A bowl of Freshly Milled Flour, Which Contains 40 out of the 44 Essential Nutrients Humans Need!
Isn't That Amazing!
What Do You Need To Get Started?
So, what do you need to get started? Firstly, you need some kind of Mill. There are many kinds on the Market, I have owned 2 different kinds. I own the Nutrimill Harvest Grain Mill, and I LOVE it! It is a stone mill, and I can grind pretty much an unlimited amount of flour at a time. If you would like to see it in use, I use it in a lot of my YouTube videos, HERE.
Grains
Secondly, you need wheat berries of some kind, there are several types out there, and to simplify it, I would suggest starting with Hard White Wheat for your breads and bread type doughs. A great recipe to start out with would be this Easy 4 Ingredient Bread Recipe. I suggest make it more than once, until you master it, then try for some other recipes. I would suggest to start with Soft White Wheat Berries for your muffins, quick breads, cookies, and pastries. A great muffin recipe to start out with is this Blueberry Spice Muffin Recipe. There are so many other kinds and varieties you can play with later after you are more comfortable.
Mixer
Next, I would suggest a mixer. This could be argued that you prefer to knead by hand, or bread maker. Now, I am not saying it is impossible to do, but I am saying that fresh milled flour takes a LOT longer to knead than commercial white flour does. Since I live in a small place, (an RV) I have a Bosch Compact Mixer. So, if you have space, you may want the full size Bosch Universal Mixer. I used to have a KitchenAid stand mixer, and I struggled to get my dough to pass the Window Pane Test. If you want to see a short Window Pane Test Video, I have that HERE.
Really, that is all you need to get started, there are a lot of other things you could add as you get going, and I have a great list Here.
I highly recommend this book to start with. It has great recipes, and a lot of info about Fresh Milled Flour. You can check it out HERE
Fresh Milled Flour 101 Video is out now!
I go over the who, what, when, where, and why's of milling your ow grains! So, A great place to start is this video!
Also, If You Want To Learn More About Milling Your Own Flour, I have a Fresh Milled Flour 101 post. So, I Recommend Starting There!
Shop This Post – What Do You Need To Know About Milling Your Own Flour?
Checkout Some Great Beginner Recipes:
Easy 4 Ingredient Bread Recipe
Also, did I mention how much I love Wheat Berries!
In Conclusion, Where Do You Even Begin? What Do You Need To Know About Milling Your Own Flour?
So, I hope this inspired you to get started! Also, I hope it answered the question of, "What Do You Need To Know About Milling Your Own Flour?" If you have questions, leave a comment below, or message me, and I will do my best to answer your question. So, Thank you for stopping by Grains In Small Places!
Recommend Reading Next
Also, I recommend reading my other post on Milling Your Own Wheat At Home – Is It Better?
And My Fresh Milled Flour 101 Post
*This post contains affiliate links, which means I make a small commission at no extra cost to you! As an Amazon Associate I earn from qualifying purchases